Hey Dolls!
I thought that I would enlighten you with the subject of things that are coming back into style! I don't know if you've noticed, but so far, we have made so many fashion trends die and start up again, if only in the span of one or two decades! So let's get on to the trends!
– High Waisted Shorts and Jeans –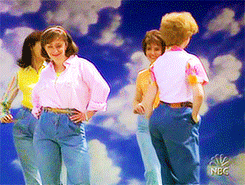 Dubbed as  "Mom Jeans" thanks to the famous Tina Fey, Amy  Poehler, Maya Rudolph, and Rachel Dratch, high waisted jeans go a long way when paired with striped shirts, or vintage tees. To find some cheap, high waisted jeans that actually have some quality, you would be surprised on what you can find in your local thrift store. If you're looking for some shorts, find some reasonable prices jeans, and cut them your preferred length. It's a great way to add some craft into your personal style! You could even use some fabric paint to make these shorts themed. I've seen some beautiful Fourth of July high waisted shorts! Time to get crafting! 
– Chokers –
Chokers have been around for hundreds of years, but the past two decades have really hit it off for them. The 90's definitely told us about this iconic look.  Whether you are going for gothic chic, or just wanting to add something to enhance your outfit, I can tell you with no doubt, that you are making a great addition to your individual style. Kylie Jenner, Rihanna, and Taylor Swift show us the different ways you could rock this look. There are so many ways you can make a statement with a simple necklace.
-Red Lipstick-
You can thank the great Taylor Swift for this one. Ever since her album "Red" dropped, girls are rocking this lip everywhere. A simple look for the eyes and a poppin' red lip is everything. It also presents a great opportunity for an ombre lip. Use a dark crimson for the whole lip, then place a light cherry in the middle to make your lips have that flushed, yet vampy appearance. Anyone can pull off this look. Every skin tone compliments bright red lips! I recommend that you try this trend especially during the holidays! Christmas is coming up, and nothing says Christmas more than a strawberry lip to go with your ugly sweater.
Thanks for reading Dolls! Make sure to follow me for updates on when I post! Like and reply to give me feedback on what you might want to see me write about! Be nice to people!